Programme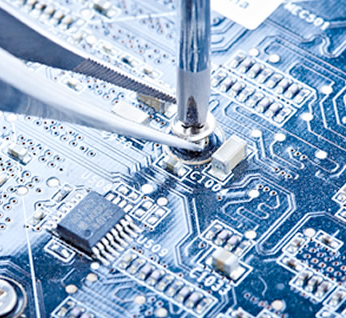 The extensive developments in microelectronics over recent decades have triggered a digital revolution with computers as the driving force. While we still think of a computer as a desktop or a laptop, digital computing and digital signal processing have become vital for many of the products in our everyday life such as cars, mobile phones, tablets, cameras, household appliances, etc. more. The Electrical and Computer Engineering program focuses on the areas of communications, digital signal processing and control, including the enabling digital processing elements and their programming.
Job description and job opportunities
Careers in the aerospace industry, telecommunications, the automotive and energy sector, and in the field of information technology; in academia, management, and consultancy. Today's business world requires disciplinary knowledge from graduates as well as the ability to apply this knowledge. Career-related services at Jacobs University provide information, counseling and training, networks, and events. Jacobs University's students participate in trainings on project management, business communication, job interview skills, and more. Digital job and internship portfolios help students to prepare for their career.

Emphasis/Curriculum
Year 1: Take 3 CHOICE Modules, at least one free selection
Introduction to Electrical Engineering
The module comprises the classical introduction to Electrical Engineering (EE) in general. Starting from the basics of the electric phenomenon, its fundamental elements (charge, current, potential, energy, etc.), its interaction with materials (conductivity, capacitance, inductance etc.) and its manipulation by man-made structures (electronic components and circuits), the course then develops into a wide set of general principles, laws and analytical tools to understand electric circuits and electric systems in general. The module also offers a solid foundation on which specialization areas in EE (e.g. Communications, Control, etc.) are built.

Year 2: Take 3 CORE Modules, at least 2 from study program
Communications
The module comprises the essential contents of digital communications. Starting from first steps to understand
modulation and demodulation procedures with and without noise, students will learn the basics for modern wireless communications starting from wireless channel properties to wireless transmission and system aspects. Additionally, the information theoretic foundation is provided that determines the possibilities and methods for error analysis, data compression, communications, and encryption.
Electronics and Noise
The module offers a solid background in electromagnetic theory, circuit analysis & design and the theory of noise. To this end, the concepts of electric and magnetic fields are introduced, followed by Maxwell's equations in vacuum and matter, and a discussion of how these lead to lumped element models on the one hand and field-based descriptions on the other. The design course (lecture+ lab) treats a variety of combinations of linear and non-linear circuit elements (resistors, capacitors, inductors, diodes, transistors, operational amplifiers, logic gates, and flip-flops) from a modular design perspective (supplies, amplifiers, switches, triggers, registers, counters and timers). Noise as a ubiquitous challenge, in particular to mobile technology, is presented based on a focused introduction to probabilities, random variables, their distribution functions leading to a discussion of random voltages and rules for their treatment in electrical circuits.
Signal Processing
The Signal Processing module covers Signals & Systems and Digital Signal Processing together with their corresponding labs, which summarizes knowledge standard for all EE / ECE programs worldwide plus some additional introduction into digital communications as a possible DSP application. The module comprises in depth treatment of all linear transforms, such as Fourier series, Fourier transform, Laplace and z-transforms (one- and two-sided), Discrete Fourier Transform (DFT) and its fast counterpart FFT. Furthermore, digital filters are discussed in detail and methods that are essential for speech, audio, and video processing, such as subband coding, linear prediction, Discrete Cosine Transform to name just a few.
In the digital communications part, the description and components of baseband, single-carrier, and multicarrier transmission are described, including matched filter, whitening filter, and equalizer structures.
Labs will provide practical aspects starting from simple signal processing tasks, up to programing a signal processor, including computer architectural aspects.

Year 3: Take CAREER Modules, choose between World and Campus Track
World Track - 5th Semester:
Program-specific Internship / study abroad
World Track - 6th Semester:
Program-specific Project / Thesis Module
Program-specific Specialization Module
Exemplary course offering


Advanced Random Processes
Multi-user Wireless Communications
Digital Communications with a Focus on Wireline
Channel Coding
Speech Signal Processing
Detection and Estimation
Model Order Reduction
Embedded Systems Design Lab
Advanced Digital Design
Campus Track - 5th and 6th Semester
Program-specific Project / Thesis Module
Program-specific Specialization Module (please see World Track for exemplary course offering)
Additional CORE Module
Admission/Entrance requirements
Admission to Jacobs University is selective and is based on a candidate's school and/or university achievements, recommendations, self-presentation, and performance on required standardized tests. Students admitted to Jacobs University demonstrate exceptional academic achievements, intellectual creativity, and the desire and motivation to make a difference in the world. Please note that there is no application fee.
Fees & Finances
Jacobs offers scholarships and financial aid packages for qualified applicants.