Programme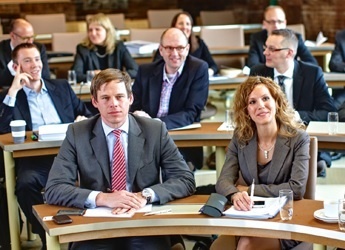 Globalisation, customer demands and technological changes are just some of the factors that highly efficient companies need to deal with. This requires permanent rethinking of structures and business processes to stay competitive, something companies will only achieve if management embraces an analytically sound approach to complexity. To succeed in this environment one needs to combine specific knowledge with an ability to think holistically. Our Master in Management programme provides the necessary tools and concepts to kick-start a career in manufacturing, consulting and beyond. The systematic combination of principles of business and management specific courses cover the core of management. In addition the choice between the concentrations:
Marketing
Manufacturing
Strategy and Organisation
Digital Business
gives the programme an individual profile, offering an expertise in the field of interest. Study in small, focused groups of colleagues from all over the world and receive totally committed support from our Career Services to plan your way ahead in the professional sphere. Upon graduation you will have a wide array of career options. Your understanding of processes, business models and organisational structures will put you on the fast track to senior management.
Job description and job opportunities
The Master of Science in Management offers young talents the opportunity to develop an individual competence in process management and strategy. Analytical knowledge combined with a strong practical understanding and a highly flexible programme profile prepares students for a successful career in manufacturing, consulting or financial services.

Emphasis/Curriculum
Pre-Semester
Business Economics
Accounting
Finance
Business Statistics
Principles of Management
Semester 1
Strategic Management
Operations Management
Information Systems
Marketing
Concentrations (choose one)

Marketing
Manufacturing
Strategy & Organisation
Digital Business
Semester 2
Innovation Management
Pracitical Ethics in Management
Leadership & Organis. Behaviour
Concentrations (same as 1st semester)

Marketing
Manufacturing
Strategy & Organisation
Digital Business
Semester 3
Elective 1
Elective 2
Study abroad option
Master's Thesis
Admission/Entrance requirements
Applicants with a first degree of less than 210 ECTS must complete a pre-semester with modules in accounting, economics, finance, management and statistics dedicated to obtain missing knowledge before entering the programme. If the undergraduate degree was in business or economics the candidate may substitute some of the pre-semester modules with advanced modules from Frankfurt School's bachelor's programme upon approval by the Programme Director. Also, all applicants with a first degree in a discipline other than business or economics are required to complete the pre-semester.
Applicants with a degree in business or economics with at least 210 ECTS can enter directly into the Master in Management without completing the pre-semester. However, the prior qualification will be reviewed by the Programme Director with a possible recommendation for pre-courses.
Study fee
Registration fee: 100 Euro
Semester fee: 8,100 Euro
Total price: 32,500 Euro
Early bird discount by March 31; 3,000 EUR
Highlights
Curriculum that combines academic rigor with practical relevance
Four concentrations
Flexible time models
International opportunities: study abroad option
Learning beyond the classroom: numerous student clubs
Extensive network of cooperating companies and universities worldwide